WWWWWWWWWW


Site Directory


Tom's Inflation
Calculator
(JavaScript version)


Tom's Inflation
Calculator
(Java version)


Inflation Calculator
Frequently Asked Questions


Microprocessor Report
(article index)


BYTE Magazine Archive
(article index)


Unofficial BYTE FAQ
( R.I.P. 1975-1998 )


Shutterbug Archive
(magazine articles)


Tom's Oscar Contest
2015 results


Tom's Oscar Contest
Hall of Fame


Recent Movies

Danny Collins is loosely based on a true story about a 1970s folk singer who didn't receive an encouraging letter from John Lennon until 34 years after it was mailed because it was intercepted by a Beatles collector. Al Pacino plays the singer, who's now a famous but fossilized performer who hasn't written an original song in decades. When the long-lost letter finally arrives, it makes him reflect on a career that's financially successful but creatively irrelevant. Annette Bening plays a hotel manager who urges him to rediscover his muse. Although this movie is well acted, a cliché family subplot soon demotes the main plot, spoiling what could have been a more interesting story about the conflict between art and commerce.

Cinderella remakes the classic French fairy tale in lavish fashion. Lily James as Cinderella and Cate Blanchett as her cruel stepmother are perfect foils. They get amusing supporting performances from Helena Bonham Carter (fairy godmother) and Sophie McShera (one of the step-sisters, more famous for her servant's role as Daisy in Downton Abbey). Highlights include the spectacular grand ball at the duke's palace and magical special effects when Cinderella's carriage reverts to a pumpkin. The story avoids excessive meanness and preaches forgiveness. Although it's rather long for young children, it's lively enough to keep them interested.

Chappie is a violent but fascinating science-fiction film about artificial intelligence. Dystopian director Neill Blomkamp (District 9, Elysium) places this near-future story in Johannesburg, South Africa, shortly after the world's first robotic police have halted a crime wave. The robot manufacturer employs a brilliant but poorly supervised engineer (Dev Patel, Slumdog Millionaire) who secretly endows a badly damaged robot with his new AI software. The machine awakens with a childlike intelligence but is a very fast learner. Soon the story becomes a morality tale that pits nature versus nurture (favoring John Locke's "blank slate") and poses age-old theological questions ("Why did you create me if I have to die?"). However, the philosophizing is nearly lost in a cacophony of action-movie violence and special effects. The best effect is Chappie himself, a remarkably lifelike creation who nearly outshines the human actors.

>> See more mini-reviews, including Jupiter Ascending ... Selma ... American Sniper ... A Most Violent Year ... Wild ... The Imitation Game ... Big Eyes ... Nightcrawler ... The Theory of Everything ... Interstellar ... Birdman (or The Unexpected Virtue of Ignorance) ... Before I Go to Sleep ... Fury ... Kill the Messenger ... The Giver ... Boyhood ... Lucy ... Magic in the Moonlight ... Begin Again ... Godzilla ... Edge of Tomorrow ... Maleficent ... Finding Vivian Maier ... The Grand Budapest Hotel ... The Monuments Men ... and many more!
Tom's Inflation Calculator
Now there are two versions of Tom's Inflation Calculator—the original Java version and an all-new JavaScript version for wider compatibility with web browsers, smartphones, and tablets!
Tom's Inflation Calculator includes the latest U.S. government inflation data plus alternative data sets. Both calculators are free and should automatically run in your web browser after clicking on the links above. By using historical data and forecasts, they can adjust U.S. dollar amounts for retail price inflation either forward or backward in time for any years between 1665 and 2100. (The alternative data sets have narrower ranges.)
The JavaScript version includes a new data set—the Social Security Wage Index. In addition to using the U.S. government's official inflation data, both Inflation Calculators offer an alternative data set from ShadowStats, a private company. These are the best inflation calculators on the Internet.

Computer Dictionary
Common Terms Defined
Are you baffled by a technical term or acronym you've never seen before? Or just curious about the latest techie slang? Tom's Computer Dictionary may have the answer. From "AAC" to "zoo virus," it defines more than 800 terms in plain language. Learn to speak geek!

Guitar Cheat Sheet
Do you want to learn the most common major and minor guitar chords? Instantly transpose songs from one major key to another? Find out which major and minor chords go together? Play scales in any major key? Learn the notes on the fretboard? It's easy! And it's free! Just download and print Tom's Guitar Cheat Sheet.

Index to Tom's Articles

Here's an index to more than 380 of Tom's articles in Microprocessor Report and Networking Report, the insider's guides to microprocessors and networking semiconductors. Learn about embedded processors, microcontrollers, digital-signal processors, and other chip-related topics. (Subscription required for most articles.)

Test Your Java Security
How safe is your system from hostile Java applets? Find out with JSecure, one of Tom's free applets. JSecure harmlessly tests the security manager of your Web browser or applet viewer by trying to access information from your computer's operating system and hard disk. Try it today!

Scramble Text With ROTator
ROTator is a Java applet that lets you encode and decode text in the popular Internet format known as "ROT 13." Lots of other programs do that, too, but Tom's ROTator applet goes further by allowing you to encode and decode text in any rotational letter-substitution format. With ROTator, you can shift the letters left or right, and you can shift them by any number of letters from ROT 1 to ROT 26.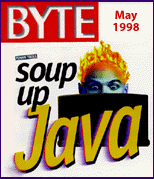 BYTE Articles

Here is an index to more than 180 of Tom's computer articles from BYTE Magazine published from 1992 to 1998. (BYTE ceased publication in June 1998.) Most articles are still available online and include the original photographs, figures, and screen shots.

And more stuff...
Visitors to this web site since August 29, 1966:

Last site update: April 24, 2015