WWWWWWWWWW


Site Directory


Tom's Inflation Calculator



Inflation Calculator
Frequently Asked Questions


Microprocessor Report
Networking Report
Mobile Chip Report
(article index)


BYTE Magazine Archive
(article index)


Unofficial BYTE FAQ
( R.I.P. 1975-1998 )


Shutterbug Archive
(magazine articles)


Tom's Oscar Contest
2016 results


Tom's Oscar Contest
Hall of Fame


Recent Movies

Moonlight was the surprise Best Picture winner for 2016, upsetting the heavily favored La La Land after an embarrassing snafu on the live Academy Awards broadcast. Whereas big-budget La La Land dazzles audiences with dance and music, low-budget Moonlight is a much quieter, darker film with an all-black cast and a gay theme. Detractors say its victory was merely Hollywood's reparation for overlooking African-American films and performances the previous year. But the acting in Moonlight is undeniably first-class, and Mahershala Ali won Best Supporting Actor despite his relatively short screen time. Writer/director Barry Jenkins skillfully tells the story of an inner-city boy's rough road to manhood in three parts spanning about 20 years. The casting is impeccable, as three different actors play the same central characters at different ages. Although Moonlight didn't do big box office, it's more proof that some of today's best filmmaking is coming from unlikely sources.

Hidden Figures is a drama about the African-American women who performed critical mathematical calculations for NASA's early space programs. It centers on three actual women who were known as "computers" when that term described a job, not a machine. Taraji P. Henson stars as Katherine G. Johnson, perhaps the most brilliant team member, whose outstanding service was later honored by NASA. The strong supporting cast includes Octavia Spencer and Janelle Monáe as fellow math whizzes, and Kevin Costner, Kirsten Dunst, and Jim Parsons as their white supervisors. Although this film is fairly accurate in portraying the early space program and the racism these women had to overcome, it needlessly exaggerates some incidents and presents some composite characters as one-dimensional people. Overall, it's a little too formulaic, but it tells an enjoyable story that needs to be told.

Manchester by the Sea is an almost flawless tearjerker with excellent writing and acting. Casey Affleck won Best Actor of 2016 as Lee Chandler, a handyman whose brother dies prematurely, leaving behind a teenage son (Lucas Hedges) and a will naming Lee as the legal guardian. But Lee's tragic past has left him a broken soul, reluctant to assume the responsibility. This film is unusual in portraying both the uncle and nephew as sympathetic but rather unlikable characters thrust into an uncomfortable situation. And it's realistic—too much so for some viewers. The only artistic flaws are a few needlessly confusing flashbacks. Nonlinear storytelling is often a device to disguise poor filmmaking, but this artful movie doesn't need it.

La La Land is a lively modern-day musical that echoes the style of classic Hollywood musicals from the 1940s and 1950s. Ryan Gosling stars as a jazz pianist who yearns to open his own nightclub in Los Angeles. Emma Stone co-stars as a young actress struggling to win her first role in Hollywood. Their paths keep crossing until finally they join in a dance routine that's notable for being filmed in one long take—not a string of cherry-picked cuts spliced together to highlight their best moves. What's even more impressive is that Gosling spent hours learning to play piano so he could mimic his keyboard performances, although a pro dubbed the music. The plot is a classic Hollywood tale of two young lovers seeking fame—until the conclusion, which is a bit more modern. This film is for musical aficionados who miss Fred Astaire and Ginger Rogers. It won six Oscars, including Best Director for Damien Chazelle.

>> See more mini-reviews, including Collateral Beauty ... Hacksaw Ridge ... Loving ... Arrival ... Snowden ... Sully ... Star Trek Beyond ... Finding Dory ... The Jungle Book ... Eye in the Sky ... Hello, My Name is Doris ... Whiskey Tango Foxtrot ... and many more!
Tom's Oscar Contest
First Place Prize: Todd Heimarck
Second Place Prize: David English (tie, 1st ballot)
Booby Prize: David Hensley (tie)
Todd Heimarck has won Tom's 34th Annual Oscar Contest for the second consecutive year. His victory was a surprise upset when he chose Moonlight for Best Picture. The runner-ups chose the heavily favored La La Land, which appeared to win Best Picture but was displaced by an embarrassing mistake on the live Academy Award broadcast. The second-place winner in Tom's Oscar Contest is David English. Although two other contestants tied his score, David submitted his ballot first. David Hensley tied for last place with Computer Booby, a computer-generated contestant. Because the computer is ineligible, David wins the last-place Booby Prize. Read the thrilling story of this year's contest, check the final scoreboard, see how Tom's OscarCalc program fared with its Oscar predictions, and view the Oscar contest Hall of Fame.

Tom's Inflation Calculator
Tom's Inflation Calculator is now updated with the latest data for 2016!
My calculator includes the latest U.S. government inflation data plus alternative data sets. It's free and should run automatically in your web browser after clicking on the link above. By using historical data and forecasts, it can adjust U.S. dollar amounts for retail price inflation either forward or backward in time for any years between 1665 and 2100. (The alternative data sets have narrower ranges.)
Tom's Inflation Calculator also includes the Personal Consumption Expenditures Price Index, which the Federal Reserve uses to guide its monetary policy, and an alternative data set from ShadowStats, a private company. It's the best inflation calculator on the Internet!

Computer Dictionary
Common Terms Defined
Are you baffled by a technical term or acronym you've never seen before? Or just curious about the latest techie slang? Tom's Computer Dictionary may have the answer. From "AAC" to "zoo virus," it defines more than 800 terms in plain language. Learn to speak geek!

Guitar Cheat Sheet
Do you want to learn the most common major and minor guitar chords? Instantly transpose songs from one major key to another? Find out which major and minor chords go together? Play scales in any major key? Learn the notes on the fretboard? It's easy! And it's free! Just download and print Tom's Guitar Cheat Sheet.

Index to Tom's Articles

Here's an index to more than 420 of Tom's articles in Microprocessor Report, the insider's guide to microprocessors, networking chips, and mobile-phone chips. Learn about embedded processors, microcontrollers, digital-signal processors, and other chip-related topics. (Subscription required for most articles.)

Scramble Text With ROTator
ROTator is an applet that lets you encode and decode text in the popular Internet format known as "ROT 13." Lots of other programs do that, but my applet goes further by allowing you to encode and decode text in any rotational letter-substitution format. You can shift the letters left or right, and you can shift them by any number of letters from ROT 1 to ROT 26. Use my all-new JavaScript version (recommended) or the original Java version.

Test Your Java Security
How safe is your system from hostile Java applets? Find out with JSecure, one of Tom's free applets. JSecure harmlessly tests the security manager of your Web browser or applet viewer by trying to access information from your computer's operating system and hard disk. Try it today!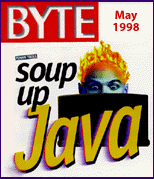 BYTE Articles

Here is an index to more than 180 of Tom's computer articles from BYTE Magazine published from 1992 to 1998. (BYTE ceased publication in June 1998.) Most articles are still available online and include the original photographs, figures, and screen shots.

And more stuff...
Visitors to this web site since August 29, 1966:

Last site update: March 31, 2017