WWWWWWWWWW


Site Directory


Tom's Inflation
Calculator
(JavaScript version)


Tom's Inflation
Calculator
(Java version)


Inflation Calculator
Frequently Asked Questions


Microprocessor Report
Networking Report
Mobile Chip Report
(article index)


BYTE Magazine Archive
(article index)


Unofficial BYTE FAQ
( R.I.P. 1975-1998 )


Shutterbug Archive
(magazine articles)


Tom's Oscar Contest
2015 results


Tom's Oscar Contest
Hall of Fame


Recent Movies

Hacksaw Ridge is one of director Mel Gibson's best films, ranking with Braveheart (1995). It's based on the true story of Desmond Doss, the U.S. Army's first conscientious objector to win the Medal of Honor. Andrew Garfield is outstanding in the lead role. After refusing to touch a rifle, even in training, Doss became a combat medic and served courageously in three Pacific campaigns during World War II. Hacksaw Ridge tells his backstory and focuses on his heroism in the battle of Okinawa, when he rescued dozens of wounded soldiers while under fire. The truth is actually more dramatic than this adaptation, which distorts his early military service, marriage, and family. Despite Gibson's curious inability to tell a straight story, he effectively shows that bravery takes many forms, and the violent battle scenes are among the most realistic ever staged.

Loving is a fictional but uncommonly accurate portrayal of the mixed-race couple who successfully challenged the South's miscegenation laws in the 1960s. After Richard Loving, a white man, married Mildred Jeter, a black woman, they were arrested, charged, and convicted of felonies for violating Virginia's law against mixed marriages. Years later they appealed, and their case reached the U.S. Supreme Court in 1967. Although this movie is a fictionalized drama, it's based on Nancy Buirski's 2012 documentary (The Loving Story) and is an unusually faithful adaptation. Joel Edgerton and Ruth Negga deliver outstanding performances as the Lovings and strongly resemble their real-life counterparts. The supporting cast is equally good. Best of all, by not overdramatizing these events, this movie shows that the Lovings were not civil-rights crusaders but merely two loving people who yearned to be left alone.

Arrival is a brain-bending science-fiction drama about the first contact with extraterrestrials. After 12 mysterious ships arrive at various locations around the globe, scientists struggle to establish communication with the mysterious creatures. Their verbal language seems unintelligible at first, so an American linguist (the always-excellent Amy Adams) tries to decipher their emoji. She gets help from a physicist (Jeremy Renner) and a gruff Army colonel (Forest Whitaker). Meanwhile, the world is going crazy with fear, and some people want a first strike. But this movie departs from the usual alien-invasion scripts. The surprising conclusion will mystify, not satisfy, if you don't pay attention to every word from the very beginning and assemble clues in flashbacks and flash-forwards. For the aliens, time is nonlinear, and so is this fascinating film.

Snowden dramatizes the true story of Edward Snowden, the National Security Agency contractor who fled the U.S. in 2013 and revealed the government's classified mass-surveillance programs. While he was changing planes in Moscow en route to Latin America, the U.S. revoked his passport, forcing him to seek asylum in Russia, where he still lives. Oliver Stone directed this fictionalized but essentially truthful account of Snowden's intelligence career and the conflicting loyalties that led him to expose the secret programs. Depending on your viewpoint, Snowden is either a patriotic whistleblower or a dangerous traitor, but this movie is an unalloyed defense of his actions. Like all of Stone's films, it is fast-paced and powerfully made. Stay after the credits roll to see the coda.

>> See more mini-reviews, including Sully ... Star Trek Beyond ... Finding Dory ... The Jungle Book ... Eye in the Sky ... Hello, My Name is Doris ... Whiskey Tango Foxtrot ... Anomalisa ... The Revenant ... The Big Short ... and many more!
Tom's Inflation Calculator
Now there are two versions of Tom's Inflation Calculator—the original Java version and an all-new JavaScript version for wider compatibility with web browsers, smartphones, and tablets!
Tom's Inflation Calculator includes the latest U.S. government inflation data plus alternative data sets. Both calculators are free and should automatically run in your web browser after clicking on the links above. By using historical data and forecasts, they can adjust U.S. dollar amounts for retail price inflation either forward or backward in time for any years between 1665 and 2100. (The alternative data sets have narrower ranges.)
The JavaScript version has a new data set—the Personal Consumption Expenditures Price Index, which the Federal Reserve uses to guide its monetary policy. In addition to using the U.S. government's official inflation data, both Inflation Calculators offer an alternative data set from ShadowStats, a private company. These are the best inflation calculators on the Internet!

Computer Dictionary
Common Terms Defined
Are you baffled by a technical term or acronym you've never seen before? Or just curious about the latest techie slang? Tom's Computer Dictionary may have the answer. From "AAC" to "zoo virus," it defines more than 800 terms in plain language. Learn to speak geek!

Guitar Cheat Sheet
Do you want to learn the most common major and minor guitar chords? Instantly transpose songs from one major key to another? Find out which major and minor chords go together? Play scales in any major key? Learn the notes on the fretboard? It's easy! And it's free! Just download and print Tom's Guitar Cheat Sheet.

Index to Tom's Articles


Here's an index to more than 420 of Tom's articles in Microprocessor Report, Networking Report, and Mobile Chip Report, the insider's guides to microprocessors, networking chips, and mobile-phone chips. Learn about embedded processors, microcontrollers, digital-signal processors, and other chip-related topics. (Subscription required for most articles.)

Scramble Text With ROTator
ROTator is an applet that lets you encode and decode text in the popular Internet format known as "ROT 13." Lots of other programs do that, but my applet goes further by allowing you to encode and decode text in any rotational letter-substitution format. You can shift the letters left or right, and you can shift them by any number of letters from ROT 1 to ROT 26. Use my all-new JavaScript version (recommended) or the original Java version.

Test Your Java Security
How safe is your system from hostile Java applets? Find out with JSecure, one of Tom's free applets. JSecure harmlessly tests the security manager of your Web browser or applet viewer by trying to access information from your computer's operating system and hard disk. Try it today!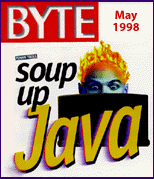 BYTE Articles

Here is an index to more than 180 of Tom's computer articles from BYTE Magazine published from 1992 to 1998. (BYTE ceased publication in June 1998.) Most articles are still available online and include the original photographs, figures, and screen shots.

And more stuff...
Visitors to this web site since August 29, 1966:

Last site update: December 3, 2016