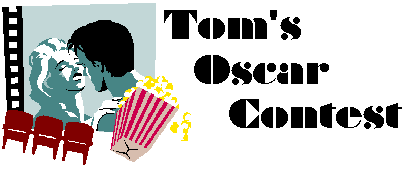 ---
Tom's 31st Annual Oscar Contest
March 2, 2014

First Place Prize: Christopher Null (129 points)
Second Place: Computer Average (125 points, ineligible)
Second Place Prize: Allison Hensley (124 points)
Booby Prize: David Hensley (0 points)
Booby (tie): Leslie Mizell (0 points, later ballot)
Booby (tie): Computer Booby (0 points, ineligible)
---
Contest Summary
Tom's 31st Annual Oscar Contest was decided at the last minute when 12 Years a Slave won Best Picture, upsetting Gravity, which won seven Oscars, including Best Director. This award vaulted Christopher Null into sole possession of First Place with 129 points—the highest score ever achieved in Tom's Oscar Contest.
Chris dethroned Denny Atkin, who won the previous two contests but fell short this year by picking Sandra Bullock over the heavily favored Cate Blanchett for Best Actress. Chris Null is a technology writer/editor and film buff in San Francisco. He finished in a three-way tie for First Place in 2005 and won the contest alone in 1998. Read his acceptance speech.
Finishing second with 125 points was Computer Average, one of the artificial contestants generated by Tom's miracle OscarCalc program. But the computer is ineligible to win, so the Second Place Prize goes to the second-highest human scorer, Allison Hensley. Allison, who scored 124 points, lives in North Carolina and is married to David Hensley, one of the many Compute! Magazine alumni who enter the contest every year. This is Allison's first award in Tom's Oscar Contest. Allison and David are film buffs who aspire to see every Oscar-nominated movie every year. Read Allison's acceptance speech.
David Hensley tied with two other contestants for last place: Leslie Mizell and Computer Booby. All strove for the worst possible score, and all scored a perfect zero. In accordance with the official rules, however, David wins the Booby Prize because he submitted his ballot one day earlier than Leslie (and because Computer Booby is ineligible). This is David's third Booby Prize in Tom's Oscar Contest, which still leaves him far behind Leslie, who has finished last 15 times. David is a self-employed business consultant and e-commerce salesperson in High Point, North Carolina. Read his acceptance speech. Computer Booby is one of the artificial contestants generated by Tom's miracle OscarCalc program, and it has finished in last place 10 times since its inception in 1999.
---