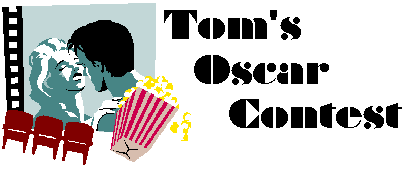 ---
Tom's 30th Annual Oscar Contest
February 24, 2013
First Place: Denny Atkin (122 points)
Second Place: Robert Lock (115 points)
Booby Prize: David Hensley (0 points)
---
Tom's 30th Annual Oscar Contest was a night-long struggle between two contestants who have been competing for at least 20 years. Finally a winner emerged—Denny Atkin, who won for the second year in a row.
Denny finished with 122 points (surpassing his score of 118 points last year) and Robert Lock finished with 115. Amazingly, Denny won despite guessing wrong in a major category (Best Supporting Actor, 10 points) that Robert guessed right. Denny's accuracy in a few lower-value categories made the difference.
David Hensley won the last-place Booby Prize. His perfectly bad score of zero points barely beat frequent Booby Prize winner Leslie Mizell, who scored one point. Leslie's valiant attempt to win the Booby Prize for a record 15th time was foiled when she chose Curfew for Best Live Action Short Film.
---
Backgrounds
Denny Atkin is a Compute! Magazine alumnus, having joined the magazine too late to engage Tom in heated Amiga versus Atari ST debates. Nowadays he manages the Xbox website for Microsoft, despite having written things like "As the Magic 8-Ball said, 'Outlook not so good'" in his days as a technology journalist. He lives in the Pacific Northwest with his wife Dawn and son Carter, who is looking forward to being nominated for Best Supporting Actor sometime in the early 2020s. Read his acceptance speech.

Robert Lock was the founder, publisher, and editor of Compute! Magazine and has competed in Tom's Oscar Contest since the 1980s. He won First Place in 2006, tied for Second Place in 2005, and won Second Place in 1990. Read his acceptance speech.

David Hensley is another Compute! Magazine alumnus. He is a self-employed business consultant and e-commerce salesperson in High Point, North Carolina. David and his wife Allison are perennial contestants and movie buffs who aspire to see every Oscar-nominated movie each year. David tied for the Booby Prize in 2010. He has plans to construct his own Booby Prize trophy (unbeknownst to Allison). David also holds the Compute! Magazine alumnus record for the most masthead title changes. Read his acceptance speech.
---