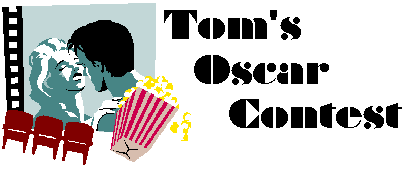 ---
Tom's 32nd Annual Oscar Contest
February 22, 2015

First Place Prize: Rebecca Willingham (116 points, earlier ballot)
Second Place Prize: David English (116 points, later ballot)
Booby Prize: Amy Helen Johnson (0 points, earlier ballot)
Booby (tie): David Hensley (0 points, later ballot)
Booby (tie): Leslie Mizell (0 points, later ballot)
---
Contest Summary
Tom's 32nd Annual Oscar Contest was decided by the tie-breaker clause in the contest rules: the earlier ballot wins.
Rebecca Willingham and David English both finished with 116 points, but Rebecca submitted her ballot about six hours sooner, so she won the First Place Prize and David won Second Place. This is Rebecca's first victory in Tom's Oscar Contest. Rebecca, a recent college graduate, is a Chicago-based theatre director. She is thrilled to finally see Julianne Moore win the Oscar she should have received for Far from Heaven, and she agrees that Birdman was the best movie of 2014. Many long-time contestants know her uncle, Compute! magazine founder Robert Lock. Read Rebecca's acceptance speech.
David English is a writer, film buff, and former editor at Compute!. He won the contest in 2011 and finished second in 2010 and 2002. Visit his websites, Filmzoid and Classic Film Preview. Read David's acceptance speech.
The last-place Booby Prize was decided in the same way. Amy Helen Johnson, David Hensley, and Leslie Mizell all finished with a perfect score of zero, but Amy won the Booby Prize by submitting her ballot about eight hours before David and about 16 hours before Leslie. This is the fifth time Amy has won or shared the Booby Prize, and she won Second Place in 2001. Amy is a freelance writer in Seattle who has appeared on TV's Jeopardy. Read her acceptance speech.
Finishing close behind the top winners were Tim Midkiff (114 points), Computer Average (a computer-generated contestant, which scored 113 points), and Robert Lock (112 points). Another computer-generated contestant, Computer Booby (which strives for the lowest score), finished with 3 points.
---