WWWWWWWWWW


Site Directory


Tom's Inflation Calculator



Inflation Calculator
Frequently Asked Questions


Microprocessor Report
(article index)


BYTE Magazine Archive
(article index)


Unofficial BYTE FAQ
( R.I.P. 1975-1998 )


Shutterbug Archive
(magazine articles)


Recent Movies

They Shall Not Grow Old is one of the most extraordinary documentaries ever made. Director Peter Jackson (The Hobbit trilogy, The Lord of the Rings trilogy) started with 100 hours of scratchy, jerky, faded, and silent film of World War I from the Imperial War Museum. Working with British, American, and New Zealand technicians, he edited the rough footage into a 1.5-hour documentary, then digitally restored and colorized it. He also hired lip-readers to analyze the silent speech, employed actors to dub the soundtrack, and even enlisted British diplomats to sing contemporary songs. Instead of trying to summarize the whole conflict, he focuses on the soldiers' lives in the Western Front trenches. The results are simply stunning. This film brings the 1914–1918 war to life as never before. The long-gone warriors suddenly seem real, as if the war happened in recent memory. Jackson sets a new standard for historical documentary filmmakers. (Keep watching after the final credits to see Jackson narrate a 30-minute explanation of the restoration.)

The Favourite recounts the fierce intrigue between two women seeking favor in Queen Anne's court in early 1700s England. Fragile health and mental depression make the queen (Olivia Colman) susceptible to the influence of her lady-in-waiting (Rachel Weisz) and an ambitious servant (Emma Stone). This film is a rare example of a major motion picture that revolves around strong female characters while relegating the men to supporting roles. All three actresses seize the opportunity to deliver Oscar-nominated performances. As usual, the filmmakers take unnecessary liberties with history, although the story's broad outlines are true. The only disappointment is a rather abrupt ending that seems more like a film-editing mistake than a thoughtfully scripted conclusion. But anyone who likes costume dramas should not miss this movie, which has been nominated for ten Oscars, including Best Picture.

Green Book is loosely based on the experiences of a cultured African-American pianist who hired an Italian-American nightclub bouncer to drive him on a concert tour through the Midwest and Deep South in 1962. The title refers to an actual guidebook that helped black people find safe places to eat and sleep in the days when racism and Jim Crow laws kept them out of whites-only establishments. Both characters in this well-crafted drama undergo emotional changes by the end of the tour, which is marred by the expected social discomfort and occasional violence. This is an actor's film with Oscar-worthy performances by Mahershala Ali as pianist Dr. Don Shirley and Viggo Mortensen as his rough-edged driver, whose son co-wrote the screenplay. Although easily dismissed as a Hollywood "magic Negro" cliché, it's one of the best movies of the year.

Bohemian Rhapsody dramatizes the meteoric career of Freddie Mercury, the lead singer of Queen, a British rock band in the 1970s and '80s. A born singer and talented songwriter, Mercury led the band to several hit records and thrilled audiences with his pyrotechnic live shows. But like many rock stars, he also led a chaotic and lavish lifestyle. Worse yet, he had the misfortune to be gay and foolishly promiscuous at a time when the AIDS virus went viral. Rami Malek gives a stunning performance as Mercury, eerily imitating his appearance and stage choreography. His co-stars are dead ringers for Mercury's actual bandmates and appear equally authentic. Malek should be a front-runner for a Best Actor award this year.

See more mini-reviews, including A Star Is Born ... First Man ... Fahrenheit 11/9 ... BlackkKlansman ... Crazy Rich Asians ... Mamma Mia! Here We Go Again ... Jurassic World: Fallen Kingdom ... RBG ... A Wrinkle in Time ... The Phantom Thread ... The Post ... All the Money in the World ... and many more!
Tom's Inflation Calculator
Tom's Inflation Calculator is now updated with the latest data for 2018!
My calculator includes the latest U.S. government inflation data plus alternative data sets. It's free and should run automatically in your web browser after clicking on the link above. By using historical data and forecasts, it can adjust U.S. dollar amounts for retail price inflation either forward or backward in time for any years between 1665 and 2100. (The alternative data sets have narrower ranges.)
Tom's Inflation Calculator also includes the Personal Consumption Expenditures Price Index, which the Federal Reserve uses to guide its monetary policy, and an alternative data set from ShadowStats, a private company. It's the best inflation calculator on the Internet!

Computer Dictionary
Common Terms Defined
Are you baffled by a technical term or acronym you've never seen before? Or just curious about the latest techie slang? Tom's Computer Dictionary may have the answer. From "AAC" to "zoo virus," it defines more than 900 terms in plain language. Learn to speak geek!

Guitar Cheat Sheet
Do you want to learn the most common major and minor guitar chords? Instantly transpose songs from one major key to another? Find out which major and minor chords go together? Play scales in any major key? Learn the notes on the fretboard? It's easy! And it's free! Just download and print Tom's Guitar Cheat Sheet.

Index to Tom's Articles

Here's an index to more than 475 of Tom's articles in Microprocessor Report, the insider's guide to microprocessors, networking chips, and mobile-phone chips. Learn about embedded processors, microcontrollers, digital-signal processors, and other chip-related topics. (Subscription required for most articles.)

Scramble Text With ROTator
ROTator is an applet that lets you encode and decode text in the popular Internet format known as "ROT 13." Lots of other programs do that, but my applet goes further by allowing you to encode and decode text in any rotational letter-substitution format. You can shift the letters left or right, and you can shift them by any number of letters from ROT 1 to ROT 26. Use my all-new JavaScript version (recommended) or the original Java version.

Test Your Java Security
How safe is your system from hostile Java applets? Find out with JSecure, one of Tom's free applets. JSecure harmlessly tests the security manager of your Web browser or applet viewer by trying to access information from your computer's operating system and hard disk. Try it today!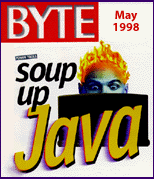 BYTE Articles

Here is an index to more than 180 of Tom's computer articles from BYTE Magazine published from 1992 to 1998. (BYTE ceased publication in June 1998.) Most articles are still available online and include the original photographs, figures, and screen shots.

And more stuff...
Visitors to this web site since August 29, 1966:

Last site update: April 19, 2019