---
The top row of Tom's Guitar Cheat Sheet shows the degrees of the scale, with half steps and the relative-minor degree clearly marked:

Instantly transpose songs from one key to another by glancing at the chords under each degree of the scale: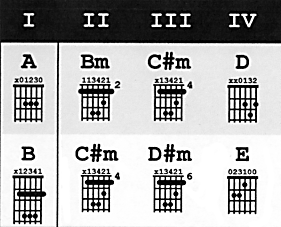 Read the tablature to play a one-octave scale in every key:

View the mode for each degree of the scale: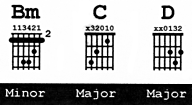 The bottom chart shows every note on the fretboard:

---
Click on one of these links to download Tom's Guitar Cheat Sheet:
cheatsheet.pdf is an Adobe Acrobat file (download size: only 173KB), ready to print with Acrobat Reader. If you don't have Acrobat Reader, download it free at the Adobe web site. (On the Adobe web page, I recommend unchecking the optional offer to download a free McAfee Security Scan Plus. Chances are your computer already has antivirus software installed.)
cheatsheet.gif is a 300-dpi GIF file (download size: only 165K) in case you can't use Acrobat Reader. When you click on the link, the cheat sheet appears in your web browser. Point the mouse cursor anywhere at the image and right-click the mouse (with Microsoft Windows) or press the Control key and click and hold the mouse button (Apple Macintosh). A pop-up menu should appear. From the menu, choose "Save Picture As..." (with Internet Explorer) or "Save Image As..." (with a Mozilla browser) and save the image just like any other file.
Now you can open and print Tom's Guitar Cheat Sheet with just about any imaging program, such as Adobe PhotoShop. Set your top, bottom, left, and right margins for 1/2 inch and the print resolution at 300 dpi. The whole cheat sheet fits on one page!